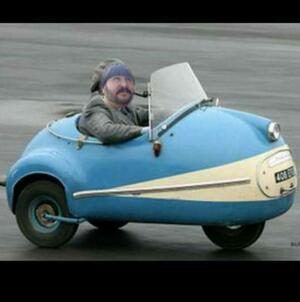 On the dare Will C took the stage at The World Famous Comedy Store in La Jolla, CA in the spring of 1995, caught the comedy bug and never looked back. After finishing his stint in the Marine Corps, another round in the Army, and did we mention he was in the Air Force as well, Will C hit the road running, (or fast walking) and hasn't looked back since.
Will C has traveled the country as a road comic and has performed all over the world with the USO and Armed Forces Entertainment. With his quick wit, over the top goofiness, and his ability to relate to his audiences, Will has become a favorite at clubs, colleges, and military bases everywhere.
He was the runner up in the Southwest Comedy Competition in 2004 and a finalist again in 2005, that same year 2005 he was voted funniest comic in Kansas City by All Comedy Radio. In 2006 he won Best of the Fest at the Calgary Comedy Festival, and again in 2007.  In 2010 he was voted into the finals of the Boston Comedy Festival Competition, and in 2011 was chosen Best of the Fest at the Eagle Rock Comedy Festival out of 160 comics in Los Angeles.

Also a talented actor who was taught by the amazing Marty Pope, you've seen Will C in such great hits as Yes Man, Seven Pounds, Never Surrender, Article 99, and Mr. and Mrs. Bridge. He has just wrapped shooting Inherent Vice, Wizards Dream, The Vatican Files, Purge 2, Murder of a Cat, Gone Girl, Revival, and Hail Ceasar with the Coen Brothers.
Will C has been featured on such great shows like, Modern Family, MOM, Hello Ladies, Ragtag, Kill Em' All, Wendall and Vinnie, Monk, Numb3rs, Knight Rider, MANswers, Gene Simmons Family Jewels, Storage Hunters, and the list goes on and on.
Will C has been in numerous commercials, too many to list here, and is a talented improvisational actor as well having been trained by the great Linda Williams of Comedy Sportz.

Will C toured with The Monsters of Comedy in 2010, traveling the United States and Canada, and in 2011 and 2012 he toured with the GIs of Comedy where he brought laughter to the troops around the world.
Will C co-founded the Veterans of Comedy in 2014 and will continue performing and raising awareness for the troops.

Will C makes his home in Los Angeles, CA where he is a regular at the Improv, The Laugh Factory, The World Famous Comedy Store, and The Icehouse in Pasadena.
His new CD "Weighting to Inhale" has been released and is available wherever fine comedy is sold.